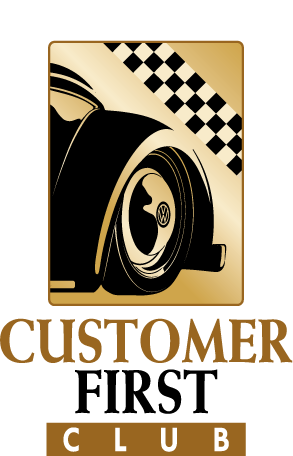 FOUR YEARS IN A ROW!
MAG Volkswagen proudly accepts the
2019 Customer First Club Member Award.
MAG Volkswagen has joined the ranks of the top 10% of Volkswagen dealers who have excelled in all aspects of the customer experience by winning the coveted Customer First Club Award. 2019 was the fourth time that MAG has won this prestigious award. MAG is one of only 60 Volkswagen dealers in the United States who have been recognized for reaching this level of customer satisfaction.
Members of the elite Customer First Club are selected by Volkswagen customers through a Customer Experience Survey. According to feedback from customers, the 60 dealers excelled in all aspects of the customer experience. We take pride in providing an exceptional experience throughout the sales and service process. 
We have our customers to thank for this achievement. It is because of customers, like you, that we continue to strive for perfection. We are honored to receive this membership and sincerely thank you for this recognition. 
Make an Inquiry
* Indicates a required field
Hours
Monday

9:00AM - 7:00PM

Tuesday

9:00AM - 7:00PM

Wednesday

9:00AM - 7:00PM

Thursday

9:00AM - 7:00PM

Friday

9:00AM - 6:00PM

Saturday

9:00AM - 6:00PM

Sunday

Closed
See All Department Hours
Dealership Hours
Monday

9:00AM - 7:00PM

Tuesday

9:00AM - 7:00PM

Wednesday

9:00AM - 7:00PM

Thursday

9:00AM - 7:00PM

Friday

9:00AM - 6:00PM

Saturday

9:00AM - 6:00PM

Sunday

Closed
Parts Dept. Hours
Monday

7:30AM - 6:00PM

Tuesday

7:30AM - 6:00PM

Wednesday

7:30AM - 6:00PM

Thursday

7:30AM - 6:00PM

Friday

7:30AM - 6:00PM

Saturday

7:30AM - 6:00PM

Sunday

Closed
Service Dept. Hours
Monday

7:30AM - 6:00PM

Tuesday

7:30AM - 6:00PM

Wednesday

7:30AM - 6:00PM

Thursday

7:30AM - 6:00PM

Friday

7:30AM - 6:00PM

Saturday

7:30AM - 6:00PM

Sunday

Closed